Since 2015, Britta Adler has been curating group exhibitions as a freelancer. Often on a larger scale. In addition to artistic quality, the diversity of artists and their works is important to her. She passionately brings socially relevant themes into an artistic discourse.  The exhibitions "bitch MATERial" & "bOObs" (co-curated with Saralisa Volm) were shown in Berlin and Hamburg and met with great response in the press. The exhibition series was recently awarded the first prize of the Green Party's "Hatun Sürücü" Women's Prize. For innovative topics at the edge of the taboo renowned artists could always can be won over.
30 January - 13 March 2022
Kunstverein Hoher Fläming
Curated by Britta Adler & Halina Hildebrand.
Artists u.a.:
Lara Azul, Ayelet Carmi & Semira Saraya, GODsDOGs, Miki Gamzou, Miriam Lenk, Gabriele Oelschläger, Adi Oz-Ari, Cornelia Renz, Semra Sevin, Peter Wilde
The ten international artists show sensual, conceptual, poetic and philosophical works through various media: painting, photography, graphic art and sculpture.
18 September - 21 November 2021
HAUS KUNST MITTE
Curated by Britta Adler
Artists u.a.:
Georg Baselitz, Mary Bauermeister, Joseph Beuys, Georges Braque, Kerstin Grimm, Aisha Juma, Rune Mields, Pipilotti Rist, Fatma Shanan,  Antoni Tàpies
44 artists from 17 countries ask what spirituality means today, beyond faith. On 500sqm, the paintings, sculptures, photographs and installations show a sensual, critical or interactive artistic exploration of the forms contemporary and earlier waves of spirituality.
21 September - 28 September 2019
Raum linksrechts 
Curated by Britta Adler & Saralisa Volm
Artists u.a.:
EVA & ADELE, Thorsten Brinkmann, Thedra Cullar-Ledford, Muri Darida, Annique Delphine, Amrita Dhillon, GODsDOGs, Camila Gonzalez Corea, Julija Goyd, Clemencia Labin, Sophie Mayanne, Eglė Otto, Raquel Paiewonsky, René Schoemakers, Semra Sevin, Frédéric HJ Schwilden, Peter Wilde
The artists behind bOObs think it is time to free the breast and take it for what it is: part of the female body, identification marker and projection surface that is allowed to hang, stand, sit and fall out of the blouse everywhere.
20 February - 08 March 2019
Karl Oskar Gallery 
Curated by Britta Adler & Saralisa Volm
Artists u.a.:
Aleah Chapin (Portrait Award, National Portrait Gallery)
Birgit Dieker (Kunstpreis der Akademie der Künste Berlin)
EVA & ADELE (Palais de Tokyo, Paris; Venice Biennale)
René Schoemakers
We are not born with it, but it makes us a woman: the female breast. She is a source of life and a source of indignation.
22 March - 08 April 2018
Studio 1 Kunstquartier Bethanien
Curated by Britta Adler & Saralisa Volm
Artists u.a.:
Pipilotti Rist, Candice Breitz, Mathilde ter Heijne, Almagul Menlybaeva, Ruprecht von Kaufmann, Tracey Snelling,  Lara Schnitger
bitch MATERial stands for the powerful, contemporary and above all diverse form of mother identity. The exhibition is accompanied by an extensive programme: Panel discussions, PechaKucha event and men's regulars' table on the topic of mother images, family and gender in the art market. With over 30 international artists.
bitch MATERial celebrates the mother as creator. Mothers create children, art, careers and controversies. It is about the diversity of mother images. Is a mother allowed to make porn? How sexy or how well-behaved can mothers be these days? Is it permissible to do without children? And how much mother is there in a man?
22. September 2018
Bar Babette
Curated by Britta Adler
Artists u.a.:
Inna Artemova, Bardolim/Voronzov, Olivia Berckemeyer, Emmanuel Bornstein, Anina Brisolla, Claudia Chaseling, Grigori Dor, Nezaket Ekici, Xenia Marcia Fink, GODsDOGs, Jacqueline Heer, Halina Hildebrand, Lisa Junghanss, Katrin Kampmann, Miriam Lenk, Sadie Lune, Milovan Destil Markovic, Markues, Corry Siw Mirski, Maria Naidyonova, Tracey Moffatt, Walpurga Pauels, Jo Pollux, Kathrin Rank, Sandra Ratkovic, Cornelia Renz, Maik Schierloh, Susanne Schirdewahn, Ann Schomburg, Nadja Schöllhammer, Tanja Selzer, Semra Sevin, Zuzanna Zita Skiba, Johanna Smiatek, Jonny Star, Alex Tennigkeit, Mathilde ter Heijne, Peter Wilde, Christopher Winter, Sahar Zukerman
A study commissioned by the BBK Studie zeigte deutlich, dass Frauen in der Kunstwelt lange nicht so erfolgreich sind wie ihre männlichen Kollegen. Den mindestens gleich vielen Absolventinnen der Kunsthochschulen stehen ein weit geringerer Prozentsatz von Künstlerinnen gegenüber, die in Galerien und auf Kunstmessen zeigen und verkaufen, geschweige denn in Museen zu finden sind.  Wir sind noch weit von "Gender Equality" entfernt (hier die download detailed results of the bbk study).  The big question is: How do we deal with this? And how do we want to change it!
2015
The Ballery
Kuratiert von Britta Adler and Simon Williams.
Artists u.a.:
Anne Michaux, Ann Schomburg, Arno Bojak, GODsDOGs, Grigori Dor, Jan Quirin Maschinsko, Katrin Kampmann, Konstantin Dery, Miriam Lenk, Monica Carvalho & Richard Rabensaat.
At the vernissage there were insect tapas from Mikrokosmos Berlin and the artworks also showed nature in an unusual way. Quirky, profound, funny and thought-provoking - just Funky!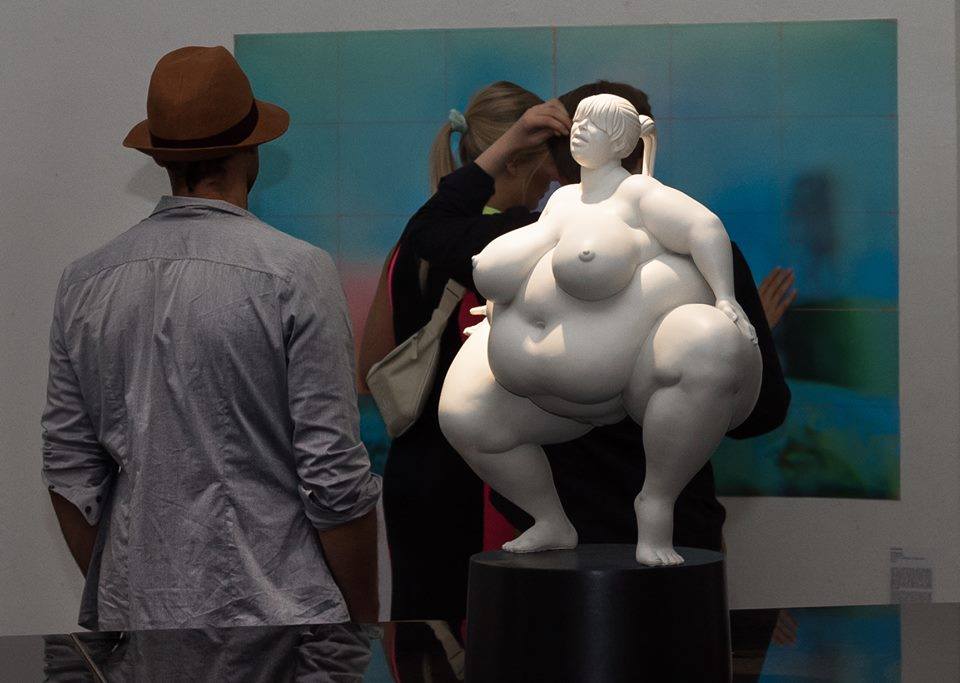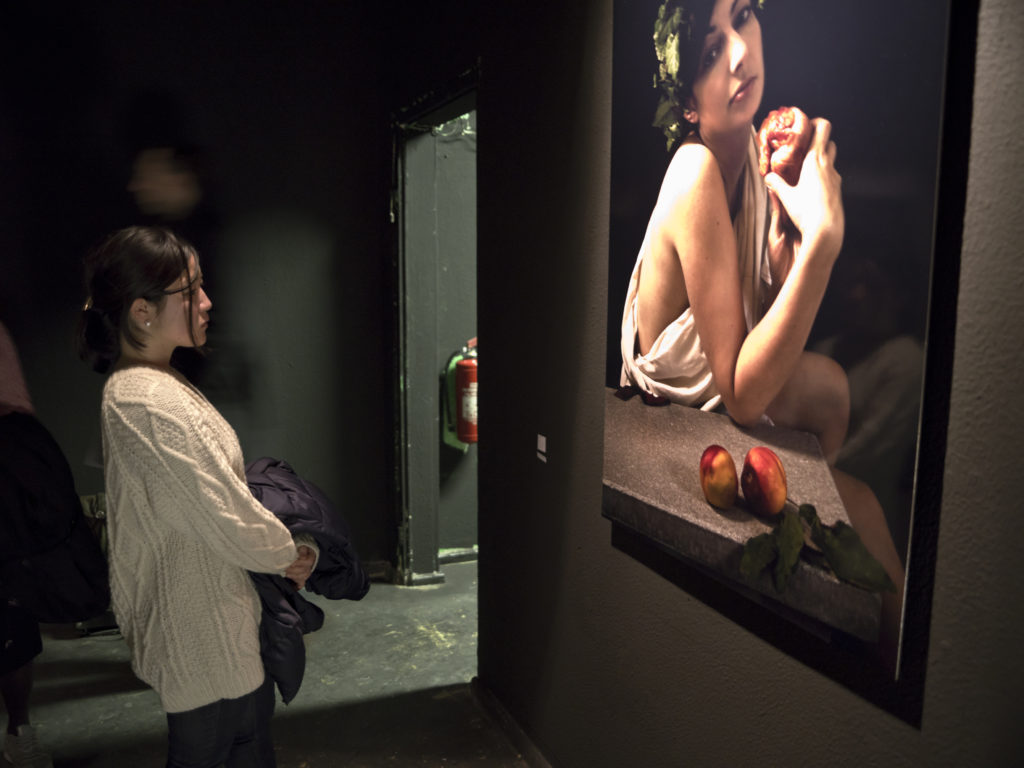 2015
KIK
Curated by Britta Adler 
Artists u.a.:
Sarah Abu Abdallah, Victor Alaluf, Katharina Arndt, Olivia Berckemeyer, Dirk Biotto, Jan Davidoff, Marcus Eek, Boris Eldagsen, Oana Farcas, Philipp Fürhofer, GODsDOGs, Oh-seok Kwon, Bo Christian Larsson, Carina Linge, Colette/Laboratoire Lumiere, Alisa Margolis, Almagul Menlibayeva, Jenny Michel, Tracey Moffatt, Jennifer Oellerich, Richard Rabensaat, Oliver Rath, Jen Ray, Cornelia Renz, Römer + Römer, Nicola Samori, Fiete Stolte, Ruprecht von Kaufmann, Christopher Winter, Peter Wilde
Time flies, no – time LIES! Die Zeit verfliegt, nein sie lügt! So denken wir, wenn wir hektisch versuchen, einen Termin einzuhalten. Obwohl Zeit wissenschaftlich gemessen werden kann, fließt sie unserer persönlichen Erfahrung nach mit endlos variierender Geschwindigkeit.  
Behind the Bitch interview
Preis des Hatun-Sürücü Frauen Preises
Sarah Abu Abdallah
EVA & ADELE
Assume Vivid Astro Focus
Katharina Arndt
Inna Artemova
Georg Baselitz 
Mary Bauermeister
Kirsten Becken
Olivia Berckemeyer
Joseph Beuys
Emmanuel Bornstein
Zoulikha Bouabdellah
Georges Braque
Candice Breitz
Thorsten Brinkmann
Anina Brisolla
Daniele Buetti
Jonas Burgert
Aleah Chapin 
Claudia Chaseling
Thedra Cullar-Ledford
Jan Davidoff
Milovan Destil Markovic
Amrita Dhillon 
Birgit Dieker
Marcus Eek
Martin Eder
Nezaket Ekici
Boris Eldagsen
Joachim Elzmann 
Oana Farcas
Jo Freeman
Philipp Fürhofer
Camila Gonzalez Corea 
Various & Gould
Julija Goyd
Kerstin Grimm 
Hassan Hashemi
Meirav Heiman
Mathilde ter Hejne 
Andy Hope 1930
Oda Jaune
Lisa Junghanss
Katrin Kampmann
Ruprecht von Kaufmann
Courtney Kessel
Thomas Klingenstein
Oh-seok Kwon
Clemencia Labin
Matt Lambert
Miriam Lenk
Carina Linge
Colette/Laboratoire Lumiere
Alisa Margolis
Markues
Sophie Mayanne 
Bjørn Melhus
Almagul Menlibayeva
Rune Mields
Tracey Moffatt
Jennifer Oellerich
Eglė Otto
Adi Oz-Ari 
Raquel Paiewonsky
Kathrin Rank
Oliver Rath
Jen Ray
Cornelia Renz 
Pipilotti Rist
Römer + Römer
Nicola Samori
Iris Schieferstein
Maik Schierloh
René Schoemakers
Fatma Shanan
Tracey Snelling
Johanna Smiatek
Lara Schnitzer
Edelweiss Förbundet Stockholm
Fiete Stolte
Despina Stokou
Frédéric HJ Schwilden
Nadja Schöllhammer
Antoni Tàpies
Alex Tennigkeit
Vincent Dance Theater
Emilie Trice
Saralisa Volm
Monica von Rosen 
Peter Wilde
Christopher Winter
Sahar Zukerman