Britta Adler has already worked as an artist in various constellations and genres. She first studied painting at the Philipps University of Marburg, then contemporary dance in Berlin and at the Bruckner Conservatory in Linz, before she was part of the five-member artist group "Artists Anonymous" was. From the master class exhibition by Baselitz to exhibitions at the Neue National Galerie ...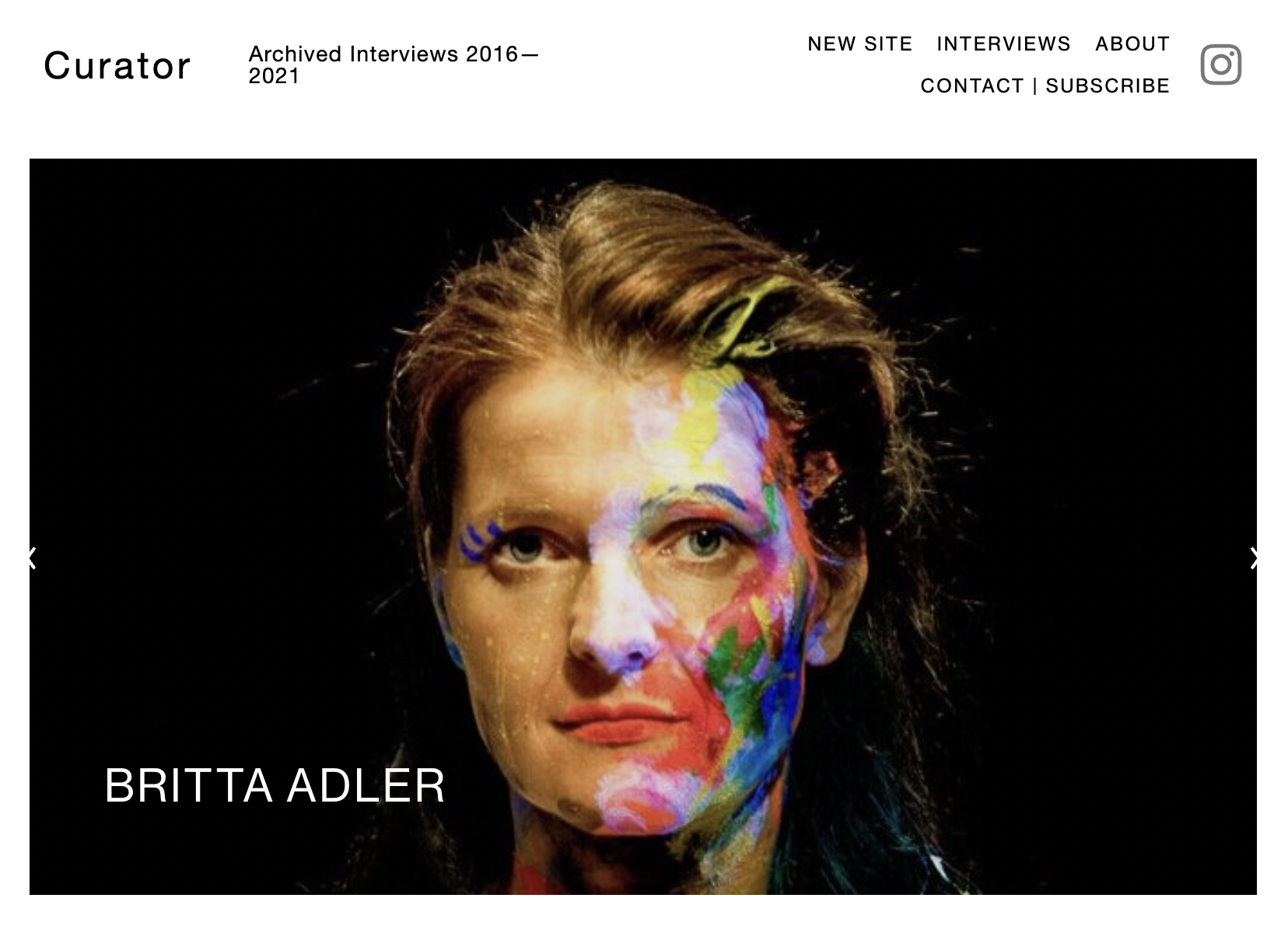 Interview for curator.site
"I love to deal with taboo topics like age, sex, abuse, spirituality, sex work, money, addiction, power, guilt, trauma, and death, but my work is not about provocation."
— Britta Adler
Artists Anonymous 
From 2004 to 2009 Britta was part of the 5-member artist group "Artists Anonymous". The works (painting, photography, installation performance) were produced together and are represented in many museums and private collections worldwide: Deutsche Bank Collection, Saatchi Collection; Rubell family collection, Miami, USA, Zabludowicz Collection GB, etc. Exhibitions include Hamburger Bahnhof, Venice Biennale, Neue Nationalgalerie. 

The last exhibition of Artists Anonymous in the AA galeryin Berlin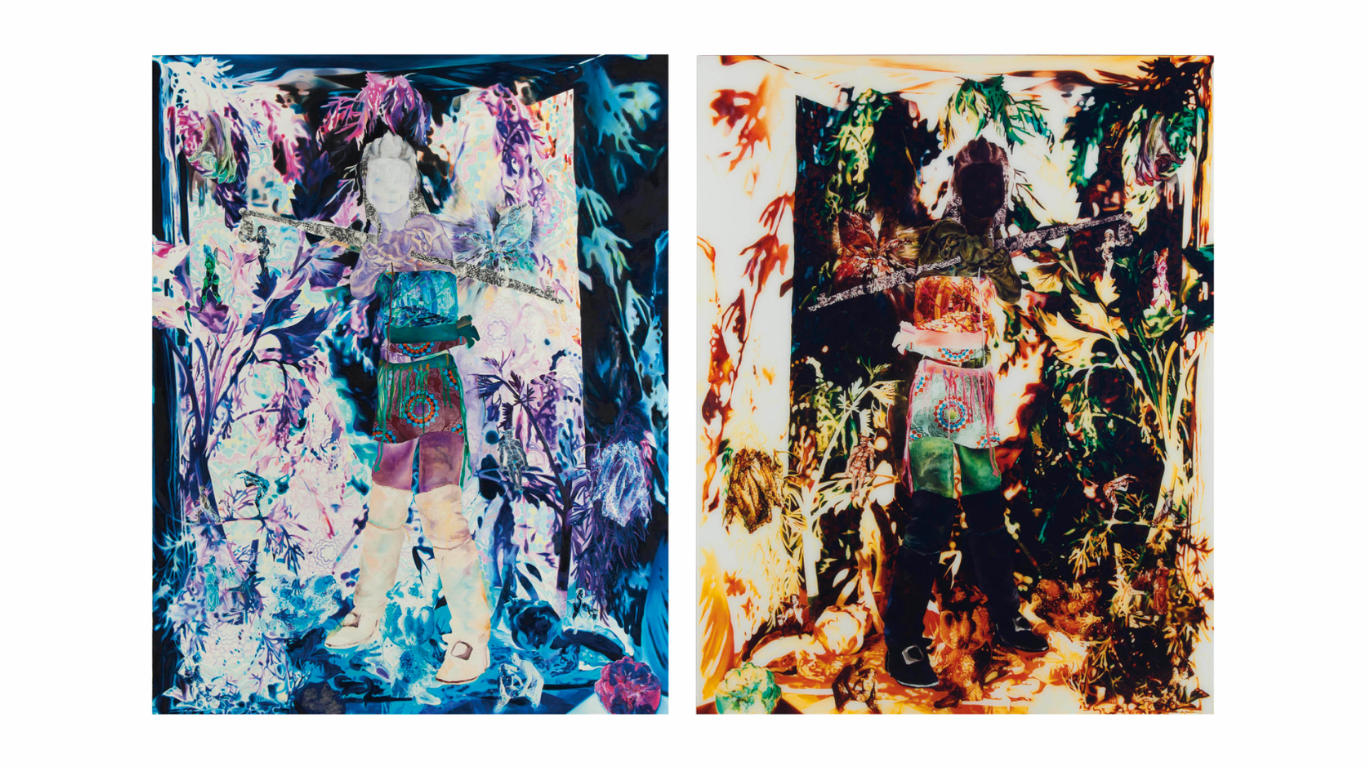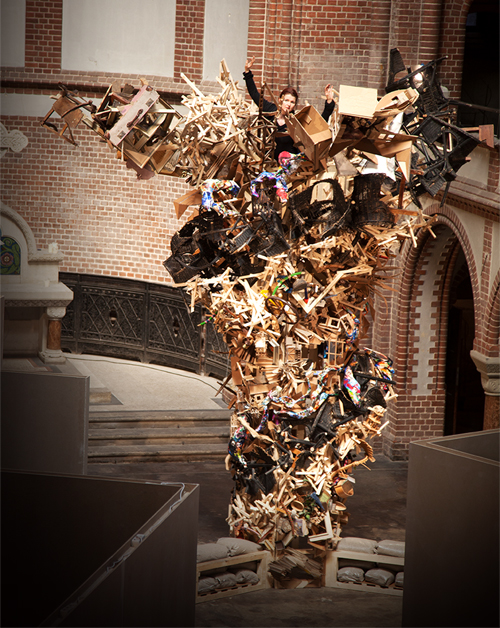 GODsDOGs
are an artists collective around Britta and Ron Helbig. With their background in dance and physical theater, they bring a choreographical approach into the visual arts incorperating different techniques and genres in a post-media condition – like installation, painting, performance, photography, dance, sculptures, collage and new media.
More info under www.GODsDOGs.de
Karl Oskar Gallery
With their walk-in installations, painted sculptures, photo-works and performances, GODsDOGs create a sense of overload. The duo collage phantasmic myths with cyberpunk imagery, film stills with lived through experience, wooden constructions with filigree drawings. It is like time, colour and form were inter-folded and condensed, to form gates into parallel worlds.
More info under www.karloskargallery.com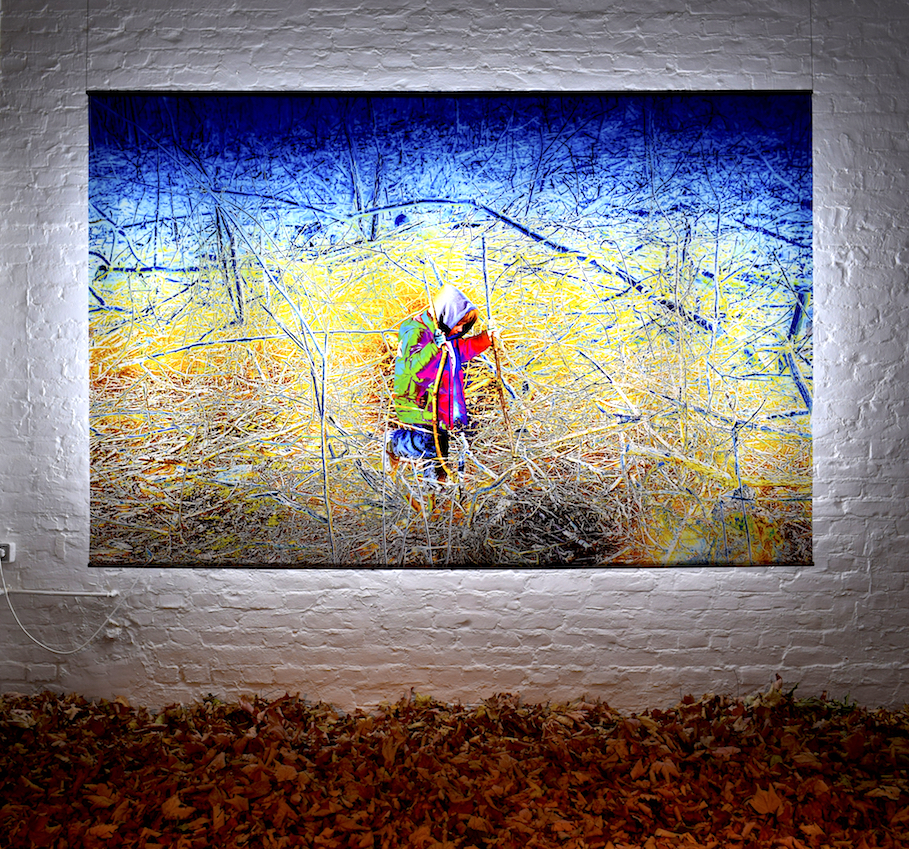 GODsDOGs bei Rohkunstbau
Die Rohkunstbau ist eine Reihe Ausstellungen für internationale zeitgenössische Kunst. Sie findet im Land Brandenburg an verschiedene Ausstellungsorten statt und dauert 10 Wochen. 
 Als Lara Azul
Void time
The idling Gallery
Uferhallen
Berlin, Sept 2022
Evolving Eden
Kunstverein Hoher Fläming
Bad Belzig, Jan-Mrz 2022
Beyond Belief
Haus Kunst Mitte
Berlin, Jun-Nov 2021
Die Seele schwingt Fraktal (Doppelausst) Weisse Villa Joachimsthal
Joachimsthal, Apr-Jun 2021
Early Appearances:
"Black Hole Society I"
DAS weekend und transmediale
Berlin, 2011
"Infinite Spaces"
Museo della Civility Romana
Rome, Sept 2010
"Zwiebelbiss"
Tape Modern No.10
Juni 2009  
Container Performance (Solo)
London Zoo Art Fair
London, Okt 2006
Performance zur Eröffnung Bernd & Hilla Becher
Hamburger Bahnhof
Berlin, Aug 2005
Als Duo GODsDOGs
Void Time
Idling Gallery, Uferhalle
Berlin, Sept 2022
Inventory
Karl Oskar Gallery
with Sonia Delaunay, A.R.Penck, G. Baselitz, Jul-Aug 2022
Per Rubigo et Ossa (solo)
Karl Oskar Gallery
Berlin, März-April 2022
Evolving Eden
Kunstverein Hoher Fläming
Bad Belzig, Jan-Mrz 2022
Beyond Belief
Haus Kunst Mitte
Berlin, Sept-Nov 2021
Die Seele schwingt Fraktal (Doppelausst.)
Weisse Villa
Joachimsthal, Apr-Jun 2021
Positions Berlin
Berlin, Sept 2020
Inventory
Karl Oskar Gallery, with Joseph Beuys, Karel Appel, Georg Baselitz,
Berlin, May 2020
50/ 50 The Matter of Duality
Paul-Fleischmann-Haus
Berlin, Jan 2020
Photospiel
Karl Oskar Gallery, with Sigmar Polke, Arnulf Rainer, Dieter Roth
Berlin, 2019
Chimera 
Kunstquartier Bethanien
Berlin, Okt 2019
bOObs goes Hamburg
Raum LinksRechts
Hamburg, Sept 2019
Looking for dick
Schau Fenster
Berlin, Apr 2019
bOObs – Wir zeigen Brust
Karl Oskar Gallery
Berlin, Feb 2019
Spaltenraum und Strahlenriss (solo)
Karl Oskar gallery
Berlin, Sept 2018
ROHKUNSTBAU – mind the gap
Schloss Lieberose curated by Mark Gisbourne
Lieberose, 2018
"MYSTIC"
Karl Oskar Gallery with Hermann Nitsch, Joseph Beuys, et al
Berlin, Jun 2018
bitch MATERial
Kunstquartier Bethanien
Berlin, Mrz-Apr 2018
Driftende Bauten,
Kunst galerie fürth curated by H.-P. Miksch
Fürth, Feb-Mrz 2018
"FoLD – fear of Life and Death" (solo)
Fata Morgana Galerie
Berlin, Oct 2017
UNDER CONSTRUCTION
Schau Fenster curated by Römer+Römer
Berlin, Jan 2017
Inglan is a Bitch
Spor Klüblü curated by Matthias Mayer
Berlin, Nov 2016
Fuck Art Let ́s Dance
Bar Babette
Berlin, Sept 2016
ROOT 1066 INTERNATIONAL FESTIVAL cuHastings,
Great Britain, Sept 2016
Blacklight Peek Performance
thatchers
Berlin, April 2016 
KIK SEVEN TIME LIES
Kino International Kunst, curated by GODsDOGs
Berlin, Nov 2015
"Riss in der Zeit" (Solo)
artspace "Villa"
Joachimsthal, Sept-Oct 2015
Collection Kunstmuseum Ahrenshoop
MailArt, curated by Dietmar Peikert
Residency "SchalterRaum" Aufbauen/ Abbauen Schöneweide, May-June 2015
"Nexus Wunderwagen"
Stadtspaziergang ifa-Galerie, moving installation
Berlin, May 2015
Party Arty
Prince Charles curated by Jan Kage
Berlin, March 15
 "Insekten"
Artspace whatulookintoart curated by Marianne Kapfer
Berlin, Nov-Dez 2014
BenefizAuktion for Telefonseelsorge
Mianki Galerie
Berlin, Okt 2014
"Urban Constructions" (special show)
at art fair "Berliner Liste"
Berlin, Sept 2014
"Enter Sandman" (solo)
janinebeangallery
Berlin, Sept-Okt 2014
KIK ONE
Kino International curated by Christopher Winter and Peter Wilde
Berlin, Feb 2014
"Metamorphosen"
Galerie im Saalbau
Berlin, Sept-Oct 2013
"Erogenous Zone"
curated by Mathilde ter Heijne, Galerie im Körnerpark, Berlin, March 13

Collective Video Bohai
Luminale
Frankfurt, Mar-Apr 12
"Aus der Kälte – out of the cold"
ACUD serendipity gallery
Berlin, Febr 12
"Nexus – Wonderers between"
Galerie Nord, Performance Festival m6
Berlin, Sept 11
"About Abstraction"
KTV
Berlin, Sept 11
"Monte Verita"
Kunstverein Familie Montez
Frankfurt a.M., June 2011
"Festival of media and time based art" Palazzo Orsini Bomarzo Dal
Italien, Feb-Mrz 2011
Infinite Spaces
Museo della Civility Romana
Rome, 2010
check bounds
Stattbad Wedding
Berlin, Juni 2010
art goes public
Galerie Kuhn & Partner
Berlin, März 2010
"postmorbital"
Berliner Kunstsalon
Berlin, Sept 2009
"Zwiebelbiss"
 Tape Modern No.10
Juni 2009
tease art fair
Köln, April 2009
"das Unheimliche"
Modulorhaus u.a. mit Jonas Burgert
Berlin, April 09
Als Mitglied der Künstlergruppe Artists Anonymous
Solo exhibitions
2008 
The Real Bloomsbury Group
Contemporary Art Society at Paul Smith, London
Kult des Künstlers: Beuys. We are the revolution.
Hamburger Bahnhof Curated by Eugen Blum
Berlin
Artists Anonymous
Sammlung Philara
Düsseldorf
Perseption and Sensation
Magazin4 Kunstverein
Bregenz
I Hate the World and the World Hates Me
Cueto Project
New York
Virus, Haunch of Venison
 Galerie Adler
Frankfurt, Zurich
2007 
Contemporary Art Society
London
Translucence
Maddox Arts
London
Deutsche Bank Collection
Frieze Art Fair, VIP Lounge
London
The Gunslinger and other True Stories
 AA-Galleries
Berlin 
Kill your Gallerist 
Vyner Street Gallery y V22
London
Alice Straight to Video 
Vyner Street Gallery
London
Drugs
Vyner Street Gallery
London
Palais Artforum Berlin
Berlin

4.
Berliner Kunstsalon
Berlin
AB
Sammlung Sander
Berlin
DC Düsseldorf contemporary 
Förderkoje
Düsseldorf
Project space at Tease Art Fair
Cologne
Project Scope Art Fair
Basel
2006 
WAR, Goff
+ Rosenthal Gallery
New York 
Zoo Art Fair
London
Art Forum
Berlin
Christian Ehrentraut Gallery 
Gallery Schwarzer Gegenwartskunst
Selected group exhibitions
2008 
PHANTAKALIFRAGILISTIGEXPIALIGETISCH
Galerie Adler
Frankfurt
The Flowers of Evil still bloom
Cueto Project with Matthew Barney, Hieronymous Bosch, Gabríela Friðriksdóttir, Albrecht Dürer, James Ensor and others
New York
Kult des Künstlers: Beuys. We are the revolution.
Hamburger Bahnhof – Museum für Gegenwart curated by Eugen Blume 
Berlin
Fresh Out of the Box
Walsall Art Museum
Walsall
Biennial
With the support of A Foundation
Liverpool

The Maddox Arts Summer Show
Maddox Arts
London
V22 
London
Faites vos jeux
Galerie de la Friche Belle de Mai
Marseilles
2007 
4'33"
Magazin 4, Kunstverein,
Bregenz
New Works for V22 Collection
V22 Ashwinstreet
London
Theatre of Obsessions
Galerie Ron Mandos
Amsterdam 
Soros Center for Contemporary Art, Almaty
The princess and the absent fan
V22
London
2006 
Kurzfilmfestival Oberschöneweide Germany Biennial
Berlin, Liverpool
Media Art Festival
Friesland
European Media Art Festival, Osnabrück, Germany
//SMART ART
Kunsthalle Dominikanerkirche
Osnabrück 
Inaugural Exhibition
Galerie Goff + Rosenthal
Berlin
2005 
Quartet 
Sommer Contemporary Art Gallery
Tel Aviv
Sammlung Sander 
Berlin
2004 
European Social Forum
London
Rundgang Meisterschülerausstellung UdK
Berlin
Weitere Ausstellungen siehe: CV Artists Anonymous
Sammlungen/ Collections:
Colección Carmen Buqueras, Madrid, Spain
SØR Rusche Sammlung Oelde, Berlin, Germany
Colección de Arte Contemporáneo de la Comunidad de, Madrid, Spain
Manchester City Art Gallery, Manchester, UK
Deutsche Bank Collection, London, UK
Saatchi Collection, London, UK
Sammlung Sander, Berlin, Germany
Collection Heiner Bastian, Berlin, Germany
Rubell Family Collection, Miami, USA
Vicky Hughes Collection, London, UK
Arthur Zeckendorf Collection, New York, USA
Doron Sabag Collection, Israel
Richard Massey Foundation, New York, USA
Beth Rudin DeWoody, EEUU
Anita Zabludowicz Collection, London, UK
Kier McGuinness, London, UK
David Teplitzki Collection
Ramon and Olga Lugo Collection, Puerto Rico
JoMo Art Collection, Belgium